Learn About the Best Poker Freerolls and Free Poker Chips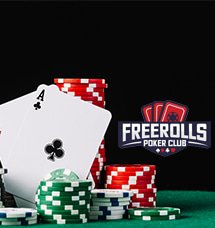 With the advent of TV poker tournaments such as Celebrity Poker Showdown and the Ultimate Poker Challenge, the popularity of poker and poker tournaments in particular, has grown exponentially over the past 2 decades, with no signs of stopping anytime soon. While many brick and mortar casinos offer tournament style poker for players, many tournaments have expensive buy-in, and long waiting lists. For players who enjoy online gaming, we have everything you need to know about the best poker freerolls, how to find tournaments and win free poker chips without spending a dime!
Poker Freerolls - Best way to play free
So what exactly are poker freerolls? The best way to describe a poker freeroll is as such - an online poker tournament where players have no entry fee, yet are still playing to win something - usually money or free pokers chips; however, some freerolls are actually preliminary tournaments where the winners are awarded seats at larger or more lucrative online tournaments, while still other freerolls may give away prizes, trips to Las Vegas, and other items instead or, in addition to cash or free poker chips.
For folks who love poker, and enjoy the competition of tournament play, and would love to win a few free poker chips, Poker freerolls are the best way to play poker without having to invest much, if any, upfront cash. However, for those who are new to the online poker scene, or haven't experienced much tournament play, finding the best poker freerolls can be a daunting task, and getting started can be more than a little confusing. We are here to help out! Keep reading our guide on finding the best poker freerolls and before you know it, you will be on your way to your first big win!
Where to Play
There are hundreds, if not thousands, of online poker sites, where various tournaments are available to play on a daily basis. How do you find the best ones for poker freerolls, particularly with cash or free poker chip prizes? Here are our tips.
Find a site that has soft play, which basically means you want to find play that isn't consistently cutthroat, pro-level poker. Finding a site with people of varying levels of experience is a great way to find some soft play. This gives everyone a chance of winning some free poker chips once in a while, rather than only the top players on the site. Seek out sites that have rules against professional players, as well as sites that have specific tournaments for players at each level of play, including beginners. Finding beginner play is a great way to hone your online poker skills and get used to tournament play. Also, find midsize sites. Huge sites attract pro players more often than the smaller or midsized sites, because large sites can bankroll huge prizes for expensive tournaments. While big sites are great to play and are a heck of a lot of fun, they may not be the best choice when seeking out the best poker freerolls.
Look for sites with a variety of games. The best sites for Poker Freerolls offer different games! While Texas Hold 'Em is still the most popular game for tournaments, many sites offer games such as Omaha Poker and Royal Poker as well as Texas Hold 'Em.
Take a look at the rules! Some sites, even with free tournaments, require players to make some type of deposit before cashing out any free poker chips won during a tournament. While the deposit requirement is typically small, it is simply something you'll want to be aware of prior to playing. Also, see what you'll win! Freeroll prizes vary quite a bit, and some sites have different size freerolls with different prize levels. Check to see if winners take home cash, free poker chips, or other prizes. All these are important factors when looking for the best poker freerolls. Also, remember winning free poker chips is slightly different than cash, as there may be minimum and maximum withdrawal requirements, or other rules. You may need to pull out partial winnings and leave some chips for later play, or a later withdrawal.
Best Poker Freerolls Strategy - Early Rounds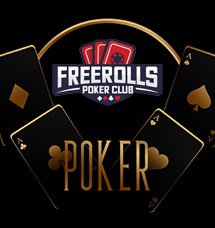 Just like with any card game, tournament strategy is different from regular play. To find the best poker freerolls strategy, there are several things to consider. First, play tight in the early rounds. This is where many players make mistakes! Since the buy-in was $0.00, many players feel like they have nothing to lose and are gearing up to win those free poker chips or cash prizes, rather than playing the long game. They are not conservative with their play at the beginning, which is the most common mistake in freerolls. In poker freerolls, the blinds can accelerate quickly, so while the blinds are low, only play your strong hands. Even while the blinds are super low compared to the size of your stack at the beginning, you still want to pick your plays carefully, as the tournament is a marathon, not a sprint. This is the best poker freerolls advice in the book!
The next best poker freerolls tip is to be conservative with "all-ins". Many players, who simply see the pot as free poker chips, rather than a tool of the game, will immediately jump all-in early in a tournament, thinking this is the best way to get ahead early. Similar to the advice of playing tight, only going all-in if your cards truly justify it. One of the best pieces of poker freerolls strategy is simply to watch your opponents make mistakes. If you notice a player frequently bluffing when going all-in, or going all-in with weak hands, then make your move, but until then, simply watch and wait.
The next best piece of poker freerolls strategy is to keep it simple! In the early rounds, try not to get too fancy with your play, or bluff much. Reason being, in early rounds of freeroll tournaments, players will call a lot more often than they would in a regular game, with their own money on the table. Take advantage of poor bluffs by other players, but keep your bluff game in your back pocket for now. Trust me, there will be time in the later rounds to get a little more fancy.
Mid Rounds Strategy
Once you have made it to the mid rounds, it is time to change up your play just a little bit. For mid rounds, the best strategy for poker freerolls is to switch gears to a bit more aggressive play. Don't be concerned if your stack is lower than others, because that will change quite a bit in the mid rounds. You will want to be more aggressive with strong made hands, such as top pair, but don't get very invested in bluffing yet, or at least bluffing with larger bets. Big bets aren't going to scare many players off yet, and bluffing too soon or too aggressively, may cause you to make a big mistake. Keep your bets consistent, and choose smart times to bluff.
Next, another example of the best practices for poker freerolls is playing the bubble. There is a time in any tournament called the bubble. The bubble is where the winners and losers of a tournament are effectively separated. When players are on the bubble, it means the next person eliminated gets nothing, but everyone who is left, will get something - free poker chips, money, or prize of some sort. Often, formerly aggressive players suddenly get conservative. It's time for you to do the opposite! This is when you want to bluff and bluff hard! You will be able to push players off the pot, particularly after playing it safe in the early rounds!
Best Strategy for Poker Freerolls - Bring It Home
Now, the game becomes simple, and play becomes aggressive. In order to get your hands on the prize, whether it's a trip, free poker chips, a seat in another tournament, or cold hard cash, you will have to bluff, and bluff well. This is when it's time to evaluate where you stand against the chip leaders. While it is tempting to push the envelope when going up against the chip leaders, the best Poker Freerolls strategy here is to definitely be aggressive, but don't be foolhardy. Going all-in against a chip leader will hurt you much more than him if you lose, so strategically work to knock the weaker players off first. Remember too, that players with shorter stacks than you will be more inclined to bluff when they don't have the cards to see it through. These are the players you want to challenge first and foremost; then work your way up to the chip leaders!
Bottom Line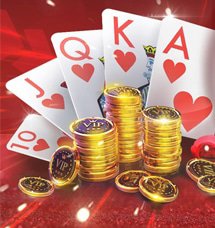 Poker Freerolls are the best way to play poker, get more skilled at the game, and even get the chance to potentially win free poker chips, cash or prizes, without spending a dime! Take a look at reputable poker gaming sites, and most will offer at least 10 or more Poker Freerolls daily, so it's easy to find the Poker Freerolls that are best for you, whether you are a beginner, intermediate, or expert card player.
Many sites offer a variety of tournament games, including, of course, Texas Hold 'Em, but also Omaha poker, High/Low Chicago, Follow the Queen, and Royal Poker. Look for a site that offers a variety of game choices, has decent traffic, good reviews and quick payout! The Best Poker Freerolls are a low risk, high reward game that anyone can enjoy!